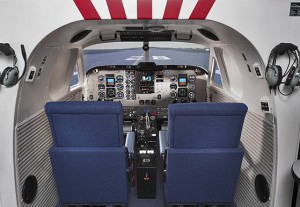 Aerosolutions provides a 2-day advanced-level training for pilots on King Air 90, 100 and 200 models using the Mechtronix King Air 200 Level 5 Flight Training Device (FTD) at the Ottawa Airport. See Mechtronix for more details on the FTD.
Recent King Air accidents in Canada highlight the importance of engine-out aircraft handling, low visibility procedures, use of SOPs and checklists and general emergency handling techniques. This course, designed to be taken in addition to normal Transport Canada type training requirements, will provide pilots with academic best practices as well as hands-on flying techniques. This will ensure safe aircraft handling during critical situations such as engine failures, emergencies, low visibility and whiteout.
This training emphasizes engine out aircraft handling, IFR flying in low visibility conditions, 2-crew and SOPs, checklist usage, standard calls, aircraft command and emergency handling. We can add other topics at operator request.
Operators may be able to get reduced insurance rates and meet client requirements by sending their King Air pilots on this course. Managers will also be assured that should their pilots be faced with a difficult situation such as an engine failure, that they will have been expertly trained to handle it in a safe and effective manner on an excellent training platform.
The instructors for this course are all airline jet pilots with a large airline who have extensive experience flying and instructing on King Air aircraft. They bring a wealth of knowledge and experience and an understanding of the importance of standardized procedures and training for flight safety.
The King Air Advanced Refresher consists of two days with 3.5 hours of classroom time each morning, followed by 4.0 hours of FTD time each afternoon. It is preferred that students come in groups of 2 or more; however, for a single student, we can either pair your pilot with another student or provide a pilot.
Price: $2,700 (per pilot based on two or more pilots); $3,300 (based on one pilot) For course schedules and registration, click here…